The Hello Kitty MMORPG Christmas Reunion is starting NOW and it's only gonna last five days, so if you're a founder, come on in and let's have loads of fun!!! :-D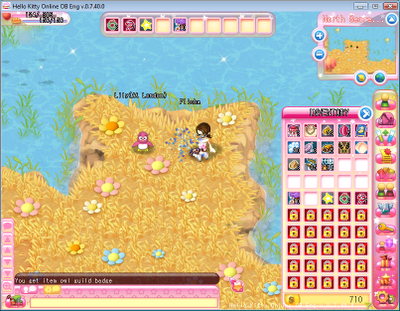 This is seriously the best PC game I have ever played, even better than the Sims! Perhaps because it's in real-time, so it's very addictive. I can't leave my laptop as long as the game's on!!!
There's not much strategy to this online role playing game, all you have to do is complete whatever quests the NPCs (nonplaying characters) have for you. It gets a bit monotonous at times, having to kill like an hour just gathering sorosis and oranges to make some juice, or waiting every other 5 minutes or so while you "recover" your strength from a faint spell while sparring with a particularly vicious enemy.
But the fantastic graphics make up for it. This RPG is so candy and rainbows that I just wanna spend all my time going around looking at everything and completing quests so I get gifts like this necklace I just got from Lily in London that makes me sparkle like crystals!
I don't know if this is a game that will appeal to boys, but the girls will certainly love it! I've been waiting for an RPG like this in forever!
During the last beta (the Founders Beta), I got a late notice for the game. Like I only got the email telling me that HKO MMORPG was ending in like, five days!! Wahhh! What's worse, I didn't have five whole days, as I had to leave Zamboanga for Dapitan, so I played for only 3 days, no longer sleeping or eating, haha. Now I've the chance to make it all up, and hopefully I finish all the quests before the 23rd. :-)
For the HKO Christmas Reunion, only founders (those that got to play during the last beta) are invited. But don't worry, Hello Kitty lovers like me, the Open Beta will be released early next year (like maybe January) so it will be a very short wait before we all get to see each other in Hello Kitty World. :-)
Keep an eye out for announcements on Hello Kitty Online. Okay, I'm going back to playing now. :-)