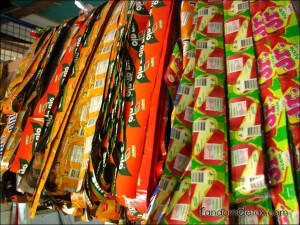 What can you do with leftover plastic wrappers, the wasteful by-products of an industrialized generation?
Burn them? Bury them? Throw them into space?
You'd be surprised. Zesto does none of these. Instead, Zesto Corporation donates all their (clean but) excess doy pack materials to Gawad Kalinga, a non-profit organization dedicated to providing shelter and livelihood to financially-challenged Filipinos. In turn, GK produces beautifully woven bags from these donated scraps right in their local chapter in GK Sunshineville, BF Resort Village, Las Piñas City, Philippines.
Their product include woven handbags, laptop bags, lunch bags, envelope bags, purses, bed mats, coasters, table tops, place mats, picture frames, storage cases and more.
Last week, I and my fellow bloggers, in coordination with Nuffnang and sponsored by HSBC, got the chance to personally visit GK Sunshineville.
We met up at Starbucks Bonifacio High Street early Saturday, and rode a van towards GK Sunshineville. It was half an hour's ride away from Makati, and upon getting there, we immediately saw the GKers hard at work weaving strips of doy pack, sewing up bags, making envelops and creating all sorts of wonderful knick knacks.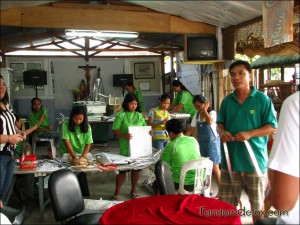 We met Brother Bong, the project director for the Gawad Kalinga Bayong ng Kabuhayan livelihood project. (Bayong in Filipino means large bag. Bayong ng kabuhayan means livelihood bags.)
He, with the help of his wife, voluntarily manages the Bayong project, as part of  his responsibilities towards Couples for Christ (CFC). The men and women of Gawad Kalinga Sunshineville choose to work for the Bayong project, as most of them are unemployed and with children.
I asked the women how many bags they produce in a day, and they said that on average, they could finish 5-7 each. They are paid about 7 pesos per bag they create. Each bag sells for about Php200-300. (But more when sold via retailers.)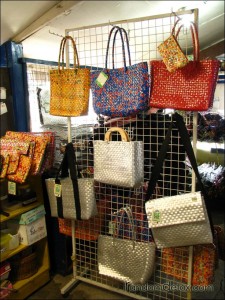 Here are sampler bayongs from the Bayong project. Lovely, aren't they? From afar, you can't even see that they're made out of Zesto materials.
The generic silver bags are Bayong's best seller. They're a hit locally. Interestingly, foreigners and Filipinos overseas prefer those that show the Zesto labels. I completely understand. Who wants to walk around carrying a bag that matches your buddy's snack? However, a local product is certainly something unique abroad. :-)
I was enamored with the silver bag as well, but I'm not a fan of the handbag. I wanted a laptop bag, but the one they currently had on display had a black strap. I wanted the earthy brown strap they used for the other bags. They were only too happy to oblige, except that they couldn't find a long enough strap to hold my laptop bag. :-( Aw. However, they said they could do it, I'd just have to follow up. GK Sunshineville, I'm holding you to your promise! ;-)
If you are interested in purchasing these bags, they do accept orders and even customizations. You can contact Mr. Bong Ragojos via mobile phone 63.2.9173907861/63.2.9196120202 or email him at ljragojos2002@yahoo.com.
My thanks goes out to Nuffnang, especially Patty, for inviting us to this event, and Abby, for buying us lunch. Thanks to Gawad Kalinga as well for giving me a bag! (More on the next post!)
To see more photos of the trip, see the gallery below.