Last October 7, 2010, I became the President of my country.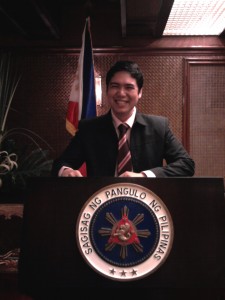 I got to pose like one that is (complete with costume jewelry). This picture was taken in Malacanang Palace, home of our country's most powerful man- the President of the Republic of the Philippines. I got the chance to meet him in person during my brother's awarding ceremony as one of the Top 30 Outstanding Students this year. Yeah, my brother not me (just kidding! I'm proud of you, bro).
Anyways, at first I wasn't all that keen on meeting our president (frankly, politicians don't have me all jumping up and down if you get my drift), but when I was in the man's presence I was just…starstruck. I mean, it's not everyday that one gets to shake the hand of a President.
Unfortunately I don't have a pic of me shaking his hand. Security was tight and cameras were banned. I did have my cellphone cam though to take pics after the president left. :)