Another song by Comic Relief. This time it's a Chavacano song that a suitor can sing to his beloved. :) It's called Cuando. Or in English, When?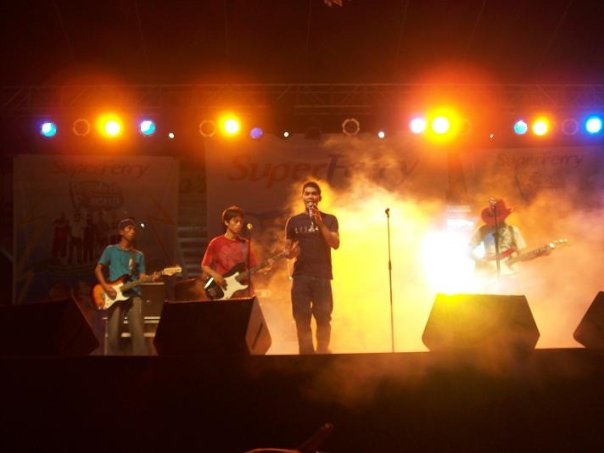 Cuando?
COMIC RELIEF
I.
Quetal man tu ahora?
How are you now?
Tiene donde anda?
Do you have somewhere to go?
Libre ba tu?
Are you free?
Puede yo lleva pasya?
Can I take you out?
II.
Pacencia conmigo
Please bear with me
Si bodi man yo
If I'm penniless
Pero prekura iyo dale contigo el todo
But I will try to give you everything
Refrain:
Hinde ba tu ta sinti
Don't you feel?
Jalo lang que supri
It's fine to suffer
Ta canta yo 'te cancion
I am singing this song
Con todo mi corazon
With all my heart
Pati mi pensamiento…
And all my mind
Chorus:
Cuando?
When?
Cuando contesta?
When will you answer me?
Pirmi yo ta resa na kita dos ay keda
I am always praying that you and I will be
Bien dulce dos letra pirmi yo ta espera
So sweet, two letters, I am always waiting for
Cuando tu contesta?
When will you answer?
Si hinde ahora, cuando?
If not today, then when?
Cuando?
When?
III.
Todo el ora
All the time
Iyo ta pensa
I am thinking
Si OK ba tu?
Are you OK?
Ta come ba tu na ora
Are you eating on time?
IV.
Perdona tu conmigo
Forgive me
Si quebrao man yo
If I seem broken
Pero prekura iyo cambia lang para contigo
But I will try to change just for you
Here is the original video, but I warn you. It's not pretty. In fact it just shows how boys can be "cochinadas"! That means "filthy" or "disgusting". If you want to call someone disgusting you just yell at him "Cochino bos!!!" (You pig!). ;)