When I am in Zamboanga I always wish I'd remembered to bring sunglasses (or sun readers if I could). I forget how sunny a day can get especially when you're driving around in a motorcycle.
On sunny days, Gim and I always go out for joyrides and eats. Lately I've been picking up a hobby. Like taking pictures of Gim with his hands like this.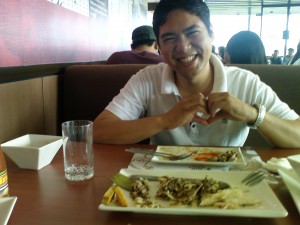 Doesn't he look sheepish? Haha. I've been getting Gim to show me some hearts everywhere we go. LOL. I can't resist and he can't resist ME!
Cute! ♥