Today, I decided to order food online! And I used the Quick Delivery service to do it.
It was really quite fast too. :) I ordered online at around 3:50 PM. They called me after about a minute or two. After confirmation, they told me I would get my order in an hour. So I prepped myself for the long wait. Brushed my teeth, did a bit of tidying, decided to take a shower. And just as I got out of the bathroom, my doorbell rang! It was only 4:20 PM! Whoa. I hurriedly put on some clothes, wasn't even able to brush my hair at all, and answered the door with a big smile.
Haha. The delivery guy must have been weirded out by my dripping hair and mismatched clothes!
Anyway, here is a guide to ordering online via Quick Delivery. Just so you know. :)
Step 1: Go to their website at www.quickdelivery.ph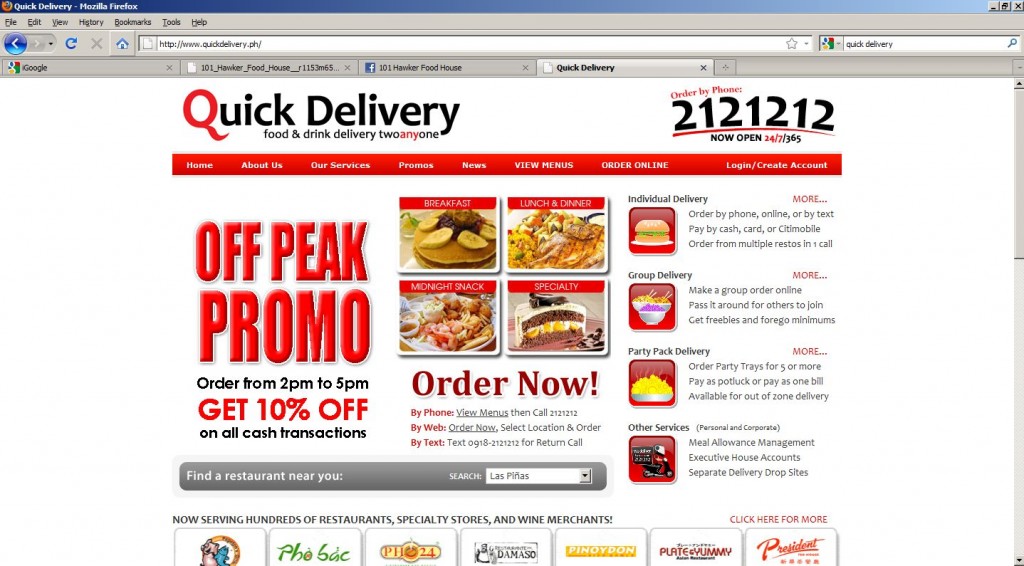 Step 2: Enter your city and barangay.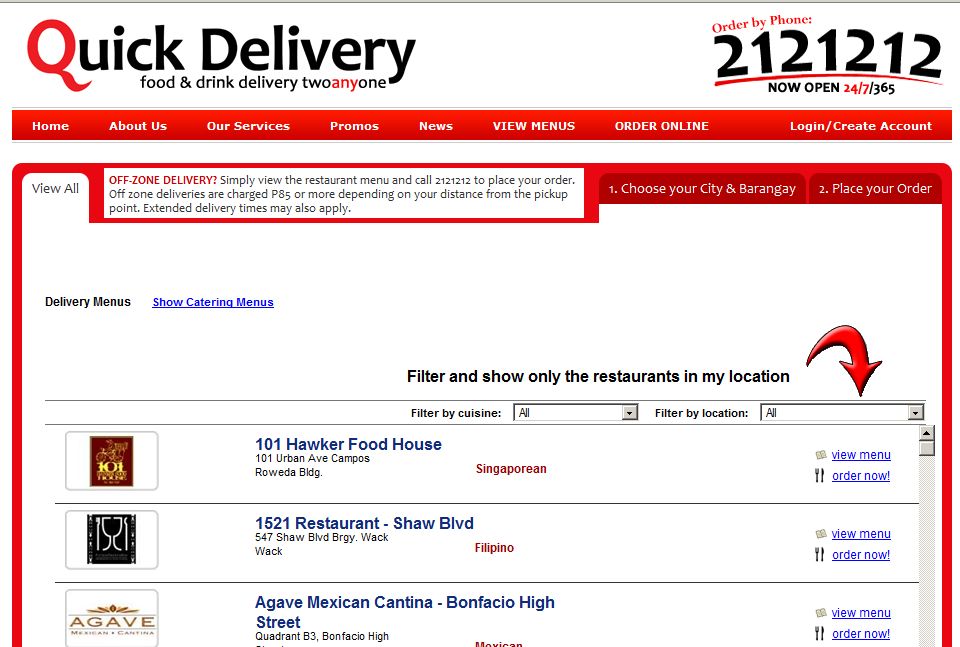 Step 3: Look through the restaurants available for delivery to your location. I found 101 Hawker Food House. And thought, Aha! So that's where I am getting my late lunch! :)

Step 4: Look through the menu of your desired resto. My menu looks yum!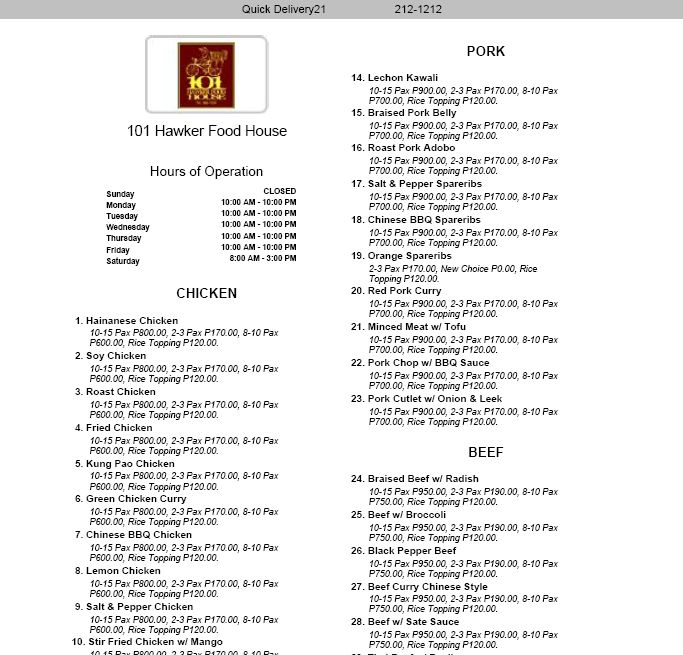 Step 5: After choosing, you start ordering. You click on your food choices and it will ask you how much of it and how many you want.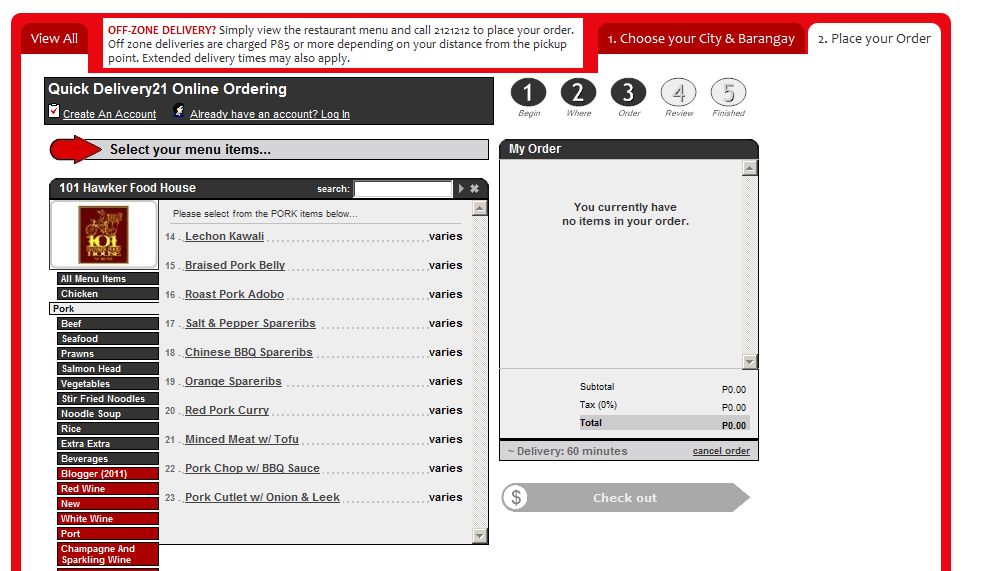 Step 6: Once done, your order will appear on the right menu, including prices. So you know how much you have to pay.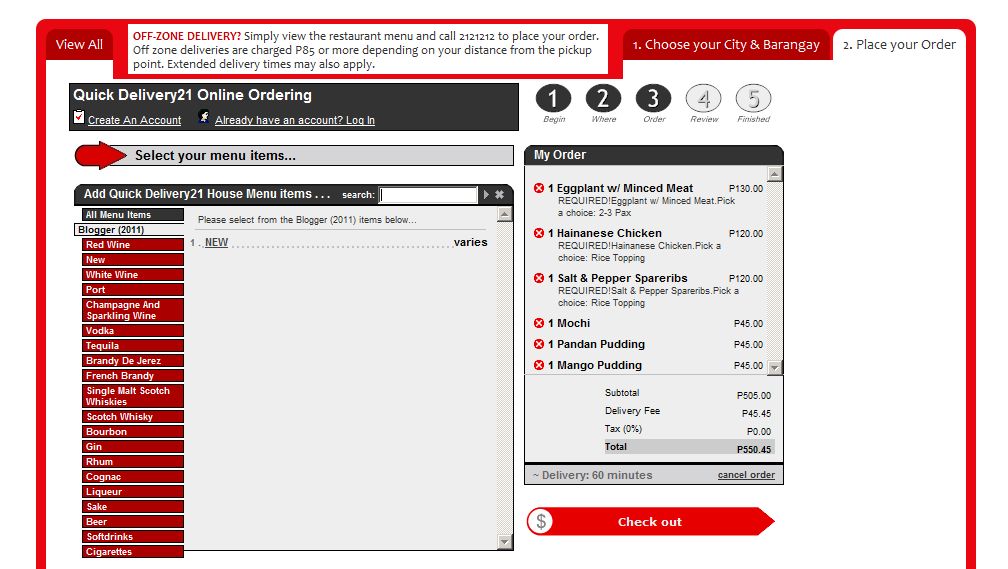 Step 7: Upon confirmation, you need to create a Quick Delivery account if you don't have one yet. (It was my first time!)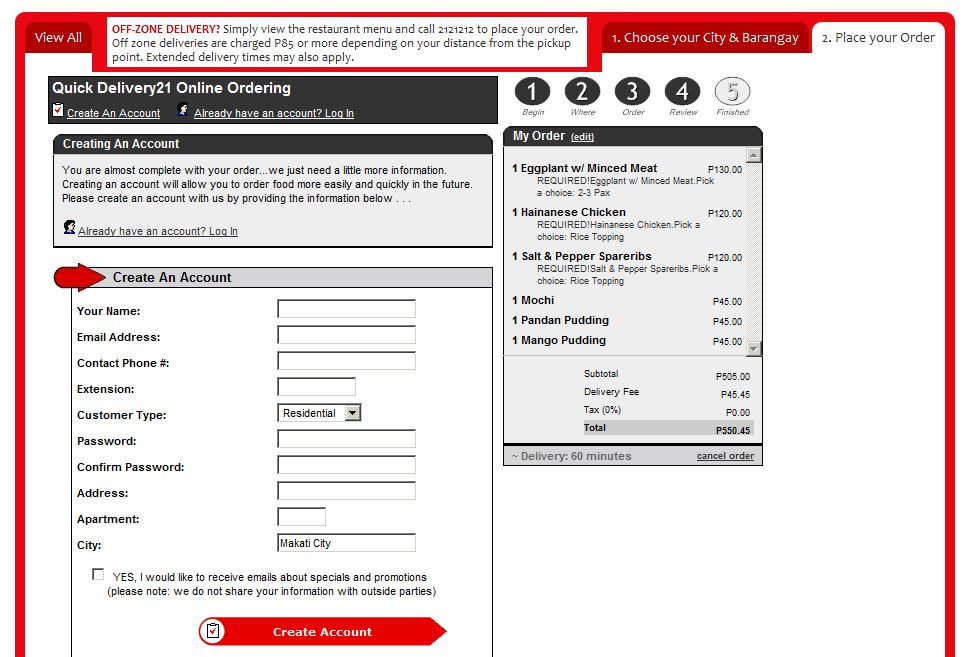 Step 8: After completing, your order is done and they will send you an email of confirmation. :)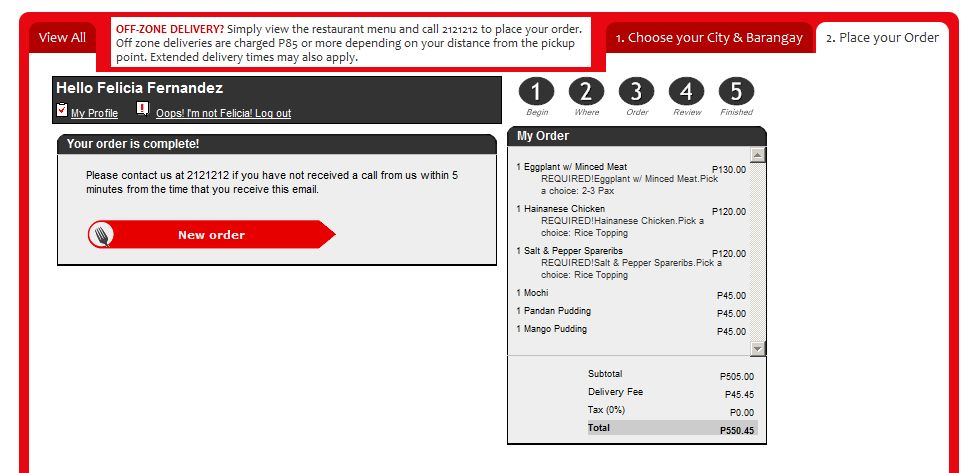 Here is the food that I ordered from 101 Hawker Food House.
Salt and Pepper Spareribs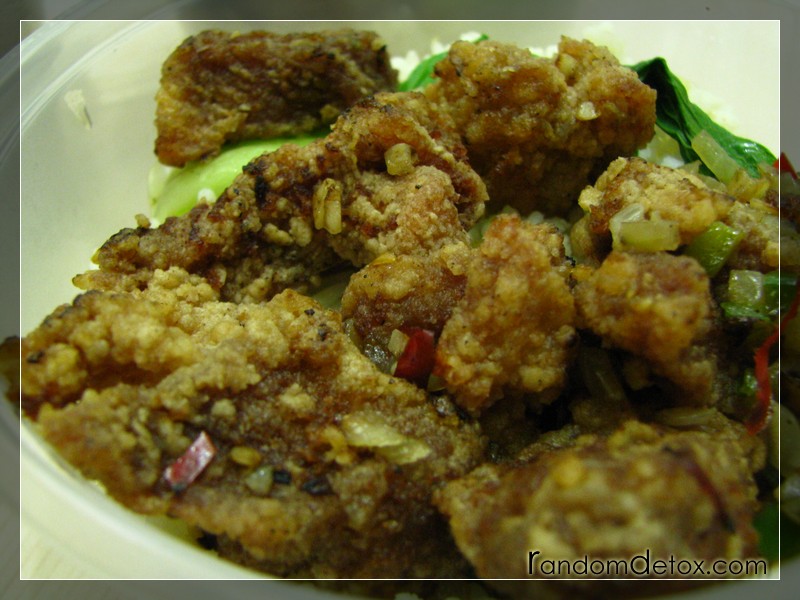 Good for 10-15 – P900.00
Good for 8-10 – P700.00
Good for 2-3 – P170.00
Rice Topping – P120.00
I really liked the spareribs. Or maybe it was because it was the first dish I tasted and it was 5pm and I hadn't eaten the whole day. Hunger makes food taste enormously better than it is. :) Either way, it was tender, and it was salty, and it was spicy. Great combination!
Eggplant with Minced Meat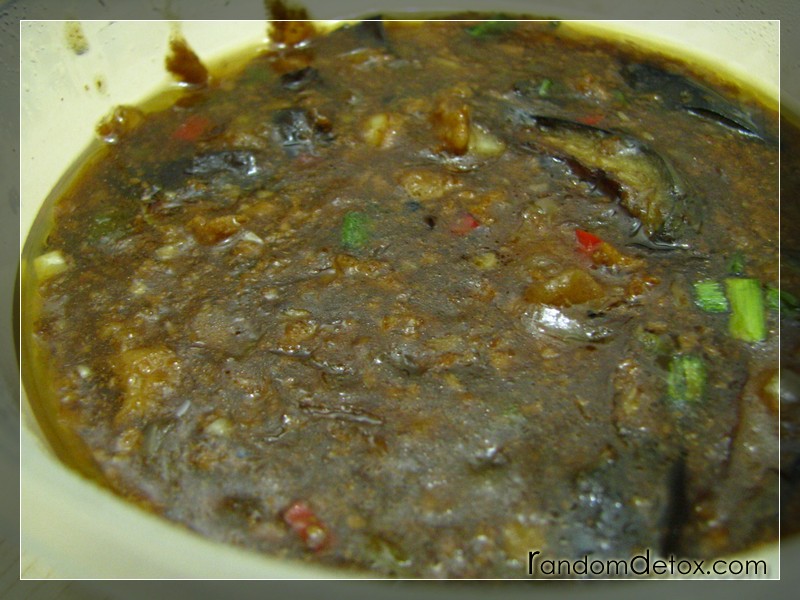 Good for 10-15 – P600.00
Good for 8-10 – P500.00
Good for 2-3 – P130.00
This dish was under the vegetables section. I thought it was going to be an omelet, or maybe fried eggplant with a bit of meat inside. But it was actually soup. Kind of like chili con carne but eggplant instead of the chili. Sounds weird? Yeah. Meh for me. They should really call this Minced Meat and Eggplant Soup. And put it under the meat section instead of the vegetable section.
Hainanese Chicken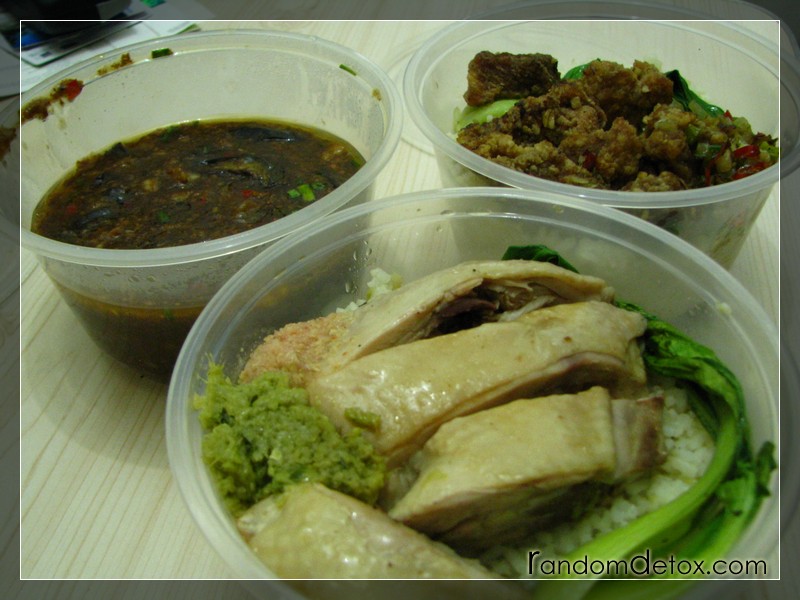 Good for 10-15 – P800.00
Good for 8-10 – P600.00
Good for 2-3 – P170.00
Rice Topping – P120.00
I kind of knew I wouldn't like it in the first place, so I shouldn't have ordered it. Just the white color of the chicken is enough to turn me off. But everybody has been raving about this dish that I thought I just had to try it once. So I ordered it. Unfortunately, it really is not for me! But for everyone who wants to know how it tastes, all I can say is that it tastes like arroz caldo. Without the soup. I kind of associate arroz caldo for comfort soup, when I'm sick, so actually I really like arroz caldo. But without that soupy goodness, I don't know. The dish feels incomplete and lonely. But then again, maybe Hainanese chicken is supposed to taste that way. Who likes Hainanese chicken, anyone care to share what this dish is supposed to taste like?
Mango Pudding/Pandan Pudding/Red Bean Pudding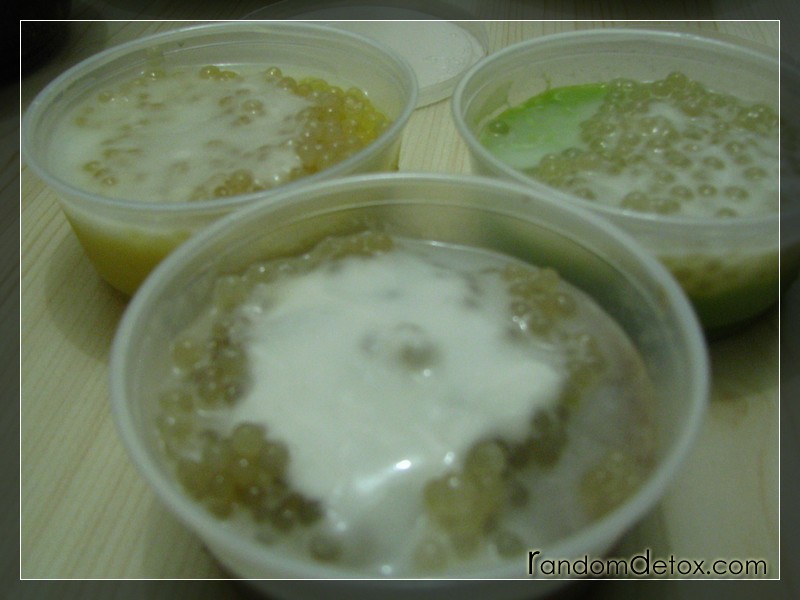 P45 Per Serving
I'm a sucker for desserts so I ordered a lot. LOL! They were okay for me. A bit too sweet on top. But I'm always up for sago, and I like the pudding. If you asked me, I wouldn't order it again, but I would eat it happily if someone gave it to me for free. Haha. They also had mochi on the menu and I really wanted to try it, but they were out of stock that time. Aww.
By the way, I was not charged for the delivery at all. :) Since I ordered between 2pm-5pm, they told me there was no delivery charge because they have an off-peak promo for the month of February. Lucky me! :) That's 50 pesos I didn't have to pay, because my order was worth P500 (minimum order for delivery).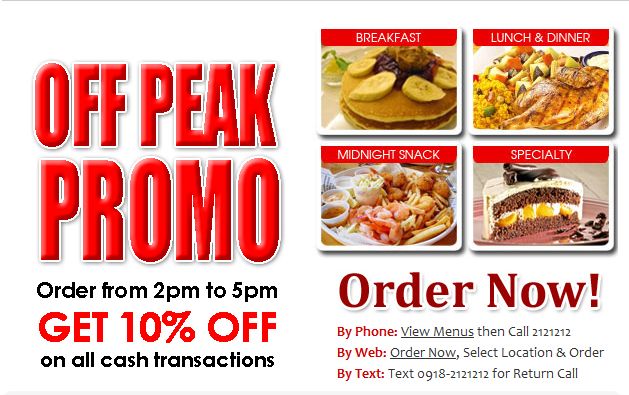 Yum! :)
Disclosure: Food provided on a complementary basis by Quick Delivery as part of its continuous improvement program.