This is so months ago, but I wanted to dump our photos so here we go. :)
Thanks to Deal Grocer, I got two coupons for a brunch buffet at Chef Jessie's in Rockwell Makati, and ate so much it almost disabled me (hello SSDI?). It was touted as a French-Mediterranean spread so I was super excited. And at only P700 per person thanks to the 50% off coupon, it was a great deal. :)
We got served some fruit juice mixed with vodka, I think. I took a sip and hated it. Gim took a sip and loved it. But none of us drank it, because Gim was on his self-imposed alcohol break due to the pending medical boards. Actually he kept shooting me nasty looks since I wouldn't drink it, hahah. He wanted me to drink for the both of us, since it was a shame to leave the cocktails untouched when he was itching to dump them down his throat. But everyone who knows me knows I can't stand the taste of alcohol, so I shot the nasty looks right back at him. LOL.
Unfortunately I didn't take a photo of the spread, just a few photos of our plates and me and Gim. But I mostly enjoyed the bacon, as you can see from my photos. Hahaha. Though I have no idea how that is French or Mediterranean?? There was also some slices of meat, but a bit too raw for my taste. Gim enjoyed kept coming back those, though. I loved the beef chunks roasted in garlic. Best dish of the meal!
There were lots of eggs. Poached, bedeviled, omellettes. Some caviar too. And some fruits. But you know what was lacking? Pastries!! I really thought there would be cakes and baguettes and all sorts of breads. Like you'd expect from a French buffet. But unfortunately, their idea of French pastry was chocolate cupcakes. Meh.
My final say on this spread would be that it was a fail on a choice of foods. But it if weren't labeled French-Mediterranean, I would've found no fault.
Here come the photos!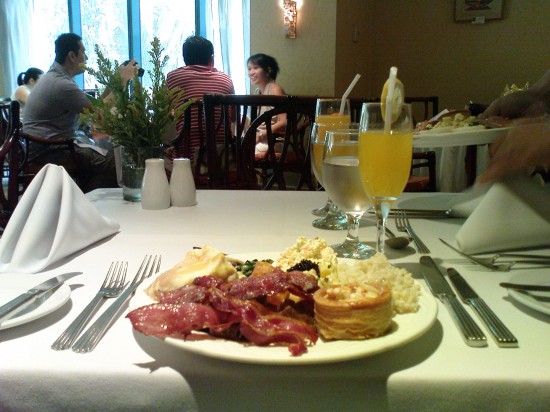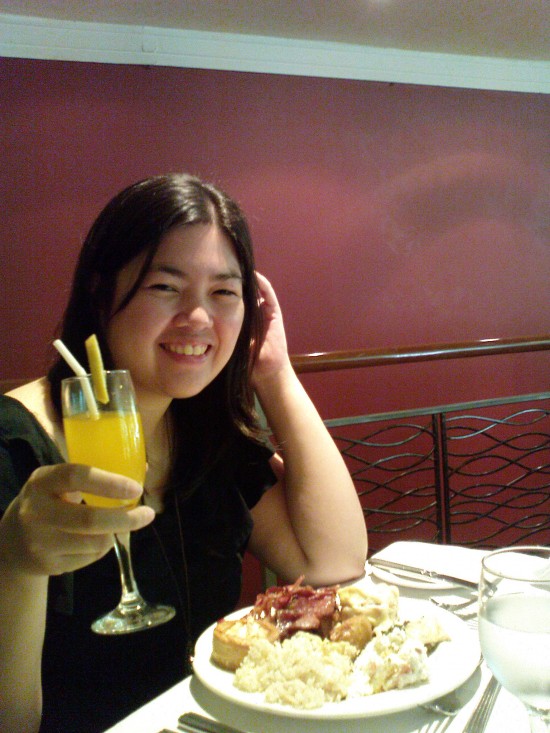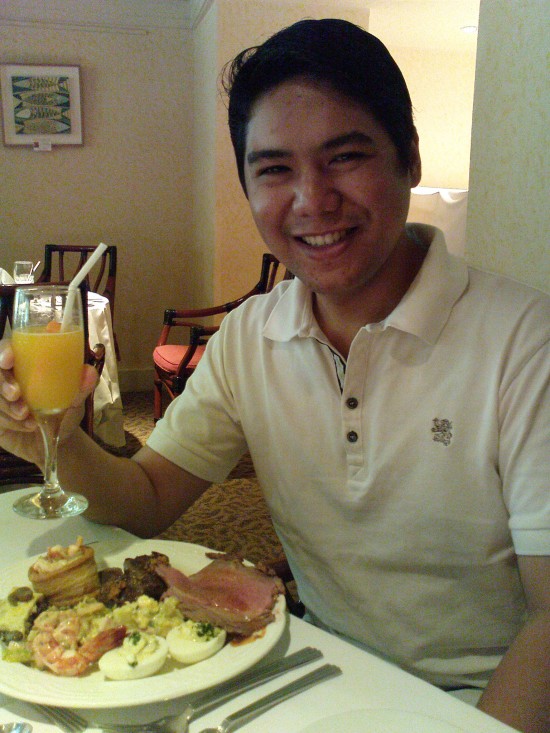 More random shots below. :)