I am a night owl, and my favorite drink is Schlurp! :) Yummy! I found it in 7 Eleven during a midnight snack run, and I simply love the taste.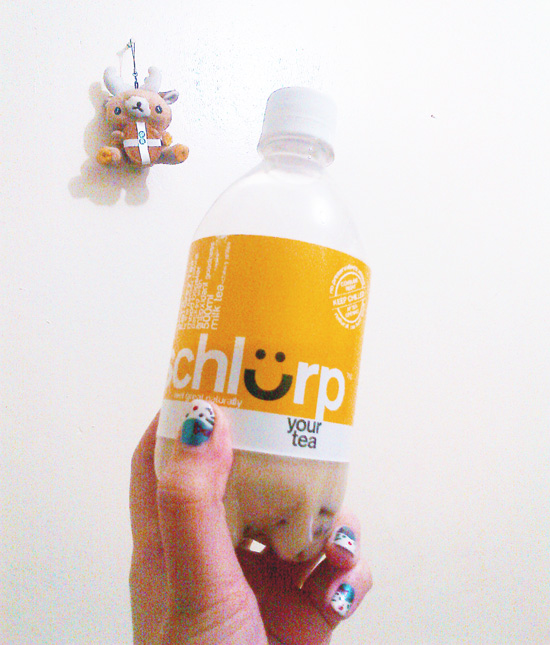 It actually tastes like tea. That's what I love. Most of the commercial products of iced tea pale in comparison to this one. Nestea, C2, Real Leaf Tea – they are simply sweetened and flavored water. Schlurp tastes like tea! Ok maybe I am not being fair, the brands I mentioned aren't exactly known for milk teas, just regular iced tea. But the fact is, the milk and jellies part of Schlurp is just a bonus for me. The selling part is really the strong flavor of tea. So yay for bottled tea I can buy in bulk and store at home to drink at my leisure! :) :) :)
Oh and did I mention no preservatives, and barely sweetened? The ingredients read: Purified water, premium brewed Earl Grey tea, low fat non dairy creamer, brown sugar and jellies. Wow!!! No high fructose corn syrup here! No aspartame! Wowww, no wonder it tastes so good. You could even try your hand making it at home with such a simple list of ingredients. :)
This is starting to sound like I am being paid for writing about this tea. LOL. I am not. Just happy I finally have a suitable replacement for my pop soda addiction. I just found out Diet Coke (and any kind of carbonated drink) gives me stomach ulcers. So this is a really lucky find for me.
I hope Schlurp branches out soon. Right now I've only found it in 7 Eleven and not in any major grocery. Good thing I have a 7 Eleven right beside me office. :)
Schlurp Your Tea!