Doesn't this look like a place you could just relax and puff famous cigars on?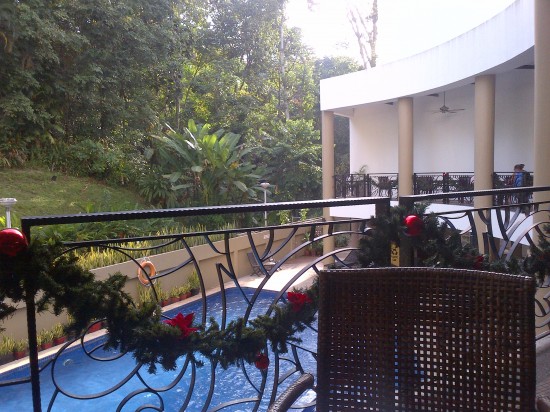 Right now, I'm relaxing at a room in The Palace Hotel in Kota Kinabalu. It's a tiny hotel located on a hill, but just near to the city and the shopping malls. Though if you spoke to the people around here, they would say this place is quite far from the city and inaccessible as you have to call a taxi to get to the major shopping malls. But the next shopping mall is a 5 minute walk from the hotel! I don't need a taxi for ride that is maybe a minute and a half. Hahaha! Maybe because KK is really small, so people think this is far already. But in Metro Manila, a 5 minute walk is already very near!
Anyway, the location is pretty good. Our first room was in the basement, the "standard room". Don't book this room. It's old and dirty and smells musty, and the wifi doesn't reach the basement, plus no windows. The staff told me that the hotel doesn't even book those rooms but Agoda pressured them so that the hotel could be "priced competitively". Well I feel we were duped. We reluctantly upgraded to a "superior room" which is basically just the same but cleaner and has wifi, for an additional 175 RM.
Anyway I will tell you more in the next few days!