Hello!
This is Snowy, my poodle. To date, he is a day shy of 18 weeks. Isn't he just the cutest little thing?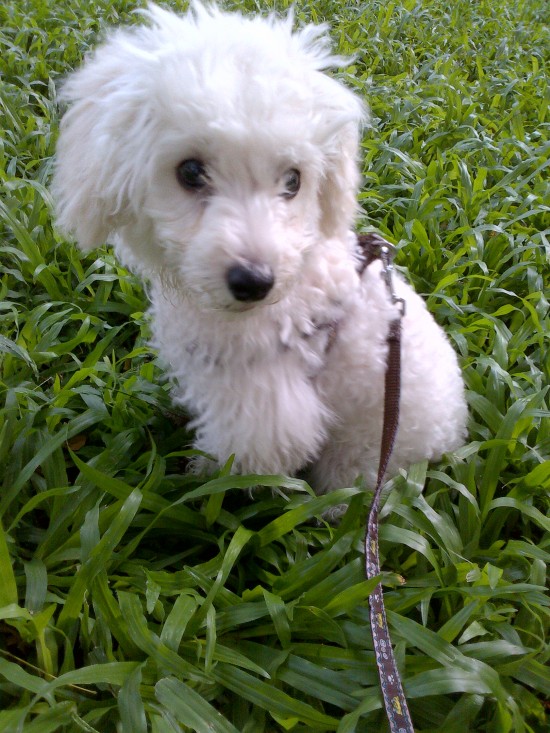 He is a toy poodle. However he is growing so big so fast that I am not sure he will stay that way!
I was never one to get too attached to pets. Growing up, my household was always full of dogs and cats but I never got close. Not since Stanley my black cat one day just up and ran away, never to be seen again. And not since my baby bat got eaten alive by ants. Those two instances broke my heart at a tender age and I cried buckets. I vowed never again to give my heart away to fragile beings.
Not until now. I guess I just got too lonely. Ever since I began living in Manila, I found it hard to be social. I can't speak Tagalog very well plus I don't feel like I have anything in common with people here. So I keep mostly to myself. It was bearable when I was living with my sister, or with friends. Not too lonely. But now that I live with my boyfriend, I just feel sad all the time. He's a doctor so he's away more often than he's around. I have only a couple of hours a day to talk with him, and every 3rd day none at all. Some days I go without talking to anyone at all. Depressing long story short, I decided to get a pet and so now I have my Snowy. :)
Living with Snowy is fun. He's super cute and affectionate. He loves to follow me around, and loves to cuddle beside me when I am watching TV or lying on the bed. He's demanding too. He loves to play! He loves his chew toys and always wants me play tug-of-war with him, or fetch, or hide and seek.
He loves to go to the park. But it gets me very nervous, because he is so energetic. I'm afraid to let him roam off-leash because he is so curious and lively, he might just bound off towards the road and get hurt. And he's quite the sprinter, so I might not be fast enough to prevent an accident. But I love him dearly and I know he loves to run and explore, so I do let him off the leash, but I watch him very carefully.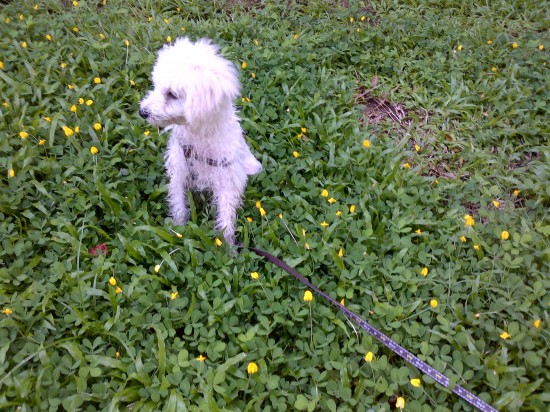 He is quite protective too. He doesn't like strangers. He thinks the public park is his property, so when he sees strangers he barks at them and sits guardedly like that until they go away. He doesn't realize he's just a little thing. So he barks even at the big Labrador who comes by the park, as if he was the same size.
However, big sounds scare him. Falling things, thundering things, booming things, he doesn't like them. So I often need to put on an unaffected, dismissive manner so as not to nurture his fears. It's hard for me to pretend it's nothing when he's yelping or crying, but I know it's best for him so I only give him affection when he is in a calm and relaxed state of mind.
I could go on and on but I will stop here. :) Just sharing a few more photos of my Snowy who makes me love him so much. :)