For my birthday, I treated Gim out to a dinner at the newly opened Ginza Bairin in Glorietta. I had been hankering for a taste the last couple of weeks, ever since I found out it was already open. Blogger reviews say they serve the best katsudon in town. That being one of my favorite Japanese dishes, I had to try. :)
But first off, here is my getup that day. :) Forever 21 top and skirt, Coco Cabana coverup, Parisian shoes, Swatch watch, Accessorize earrings, Coach bag. Nice clothes for a special day.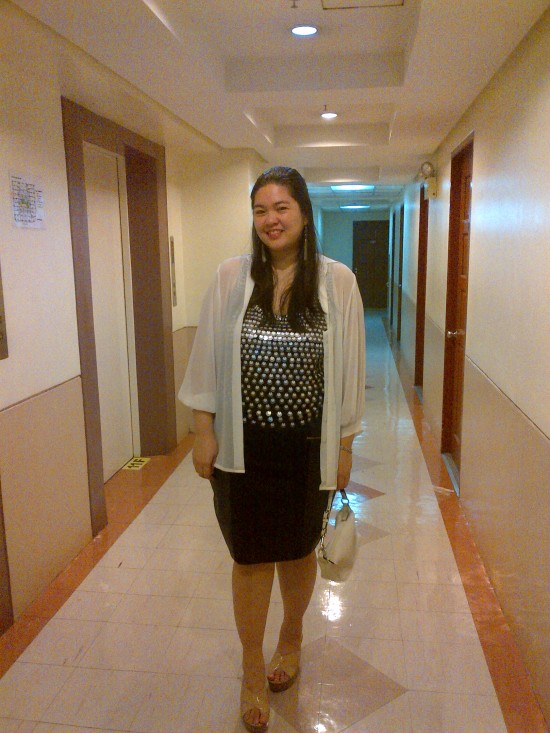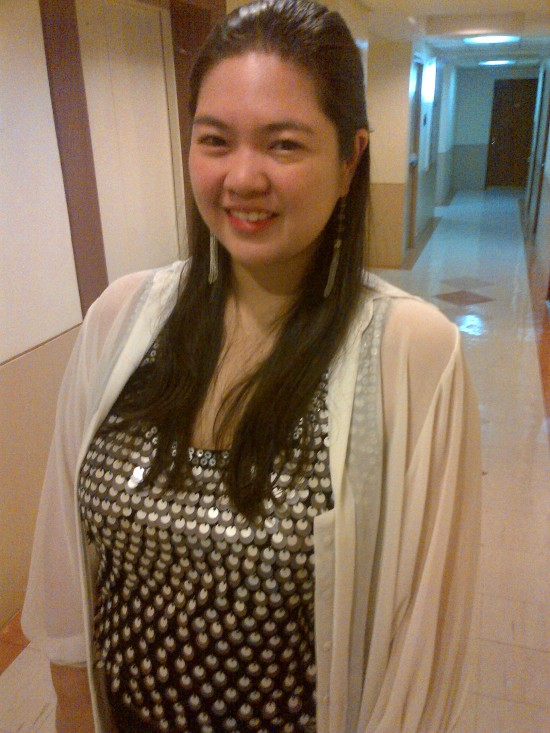 It was about 6:30 pm when we got there. Gim and I just walked to Glorietta, since it's just a few minutes away. There were only a few people dining, so got to choose our spot. I decided on a quiet booth in the corner, near the kitchen, which was separated from the dining area by glass, entertaining because you could clearly see the food being prepared. :)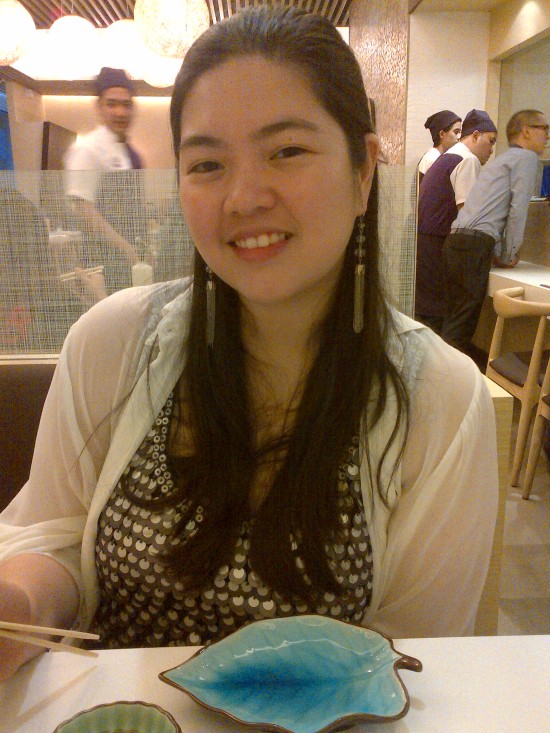 Our first order was gyoza, my favorite appetizer. It was curiously served, with a square film of flour on top. Points for presentation, I suppose. Functionally, though, it made it harder to eat the gyoza. I had to break it with my chopsticks which made a mess, and it stuck to the gyoza so you had to carefully put it in your mouth lest the pieces break off and fall onto your clothing.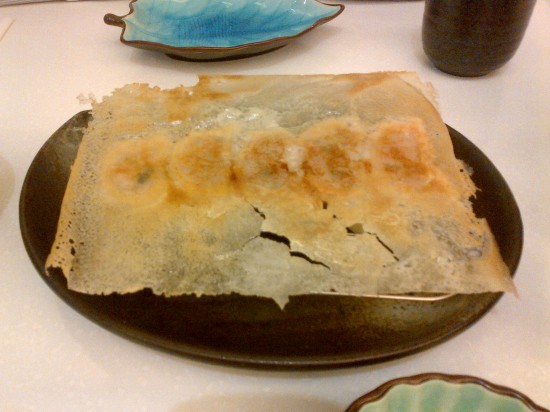 But! The gyoza! Yum!!! One of the best gyoza I ever tasted for sure. :) So very soft and tender and tasty. Bit expensive at Php150, but very very delicious. I only dipped it once in the sauce. The second time, I just bit into the gyoza right away, no need for extra sauce. :)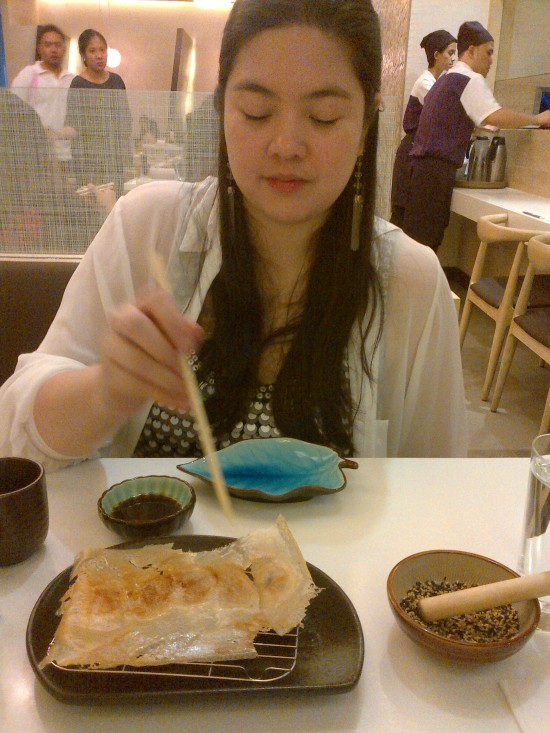 I like that they serve house tea with unlimited refills. In Japan, people rarely drink water with their meals. Mostly it is tea. Adds to the charm and authenticity feel. Plus it saved me from ordering any drinks. Hehe. :)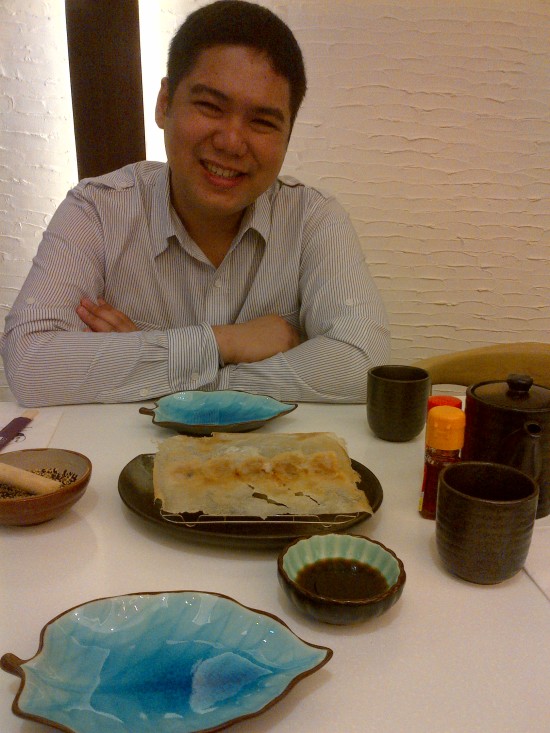 Here is what we ordered for mains. I got the Special Katusdon Set (Php395). Comes with free and unlimited miso soup, salad and fruit. I loved the miso soup, it was very flavorful with lots of vegetables. I maybe drank 3 cups, haha. The cabbage, not so much, but it was OK with the dressing.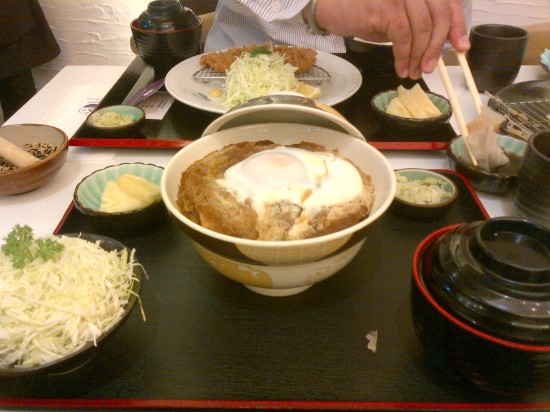 The katsudon was the star. The meat was sooo soft and juicy. Not too fatty, but very tasty. I loved that it was so thick! Plus the soft egg on top, pierced it and the dark yellow yolk oozed out. And the rice too was rich and infused with broth. Wow. It was just amazing. Truly the best katsudon in Manila. I will come back over and over for this. :)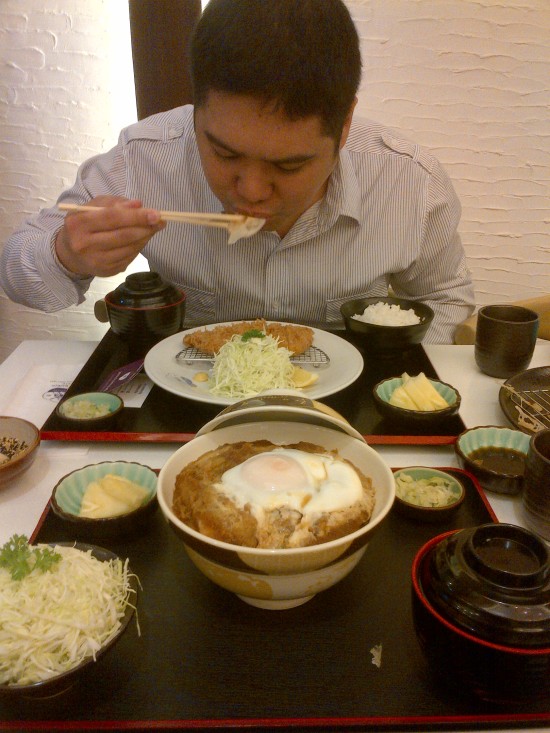 What I got for Gim was the Kurobuta Rosu Katsu Set (Php 595). (Yes I was the one who ordered everything, I did not let him choose, hahaha! What I ordered were the stuff I wanted to try but couldn't finish all by myself! Hey, it was my day!) This dish is the pride of Ginza Bairin. It's made of Berkshire black pig prized for its texture and flavor. I wanted to order this for myself, but between katsu and katsudon, I am just more of a katsudon type of girl. :) Gim and I exchanged some of our meat so we could both taste everything. It was just as soft and flavorful as I expected it to be. You could eat it with smashed sesame, or with their special katsu sauce. I especially loved the layer of fat, wow, it was really so good.
We wanted to get dessert, but truly, after all the unlimited miso, cabbage and house tea, our stomachs were full to bursting and we just could not eat any more. :) So, we ended there, after about an hour and a half of eating. At 8pm, as I got up to leave, I found out the restaurant had become full! There was even a line of people outside waiting to get in. This on a Thursday evening. Good thing we arrived early. :)
Oh, and plus points for their customer service. Waiters were very attentive. Every discarded plate was picked up immediately. They were constantly checking if you needed more tea, more miso, more cabbage, more anything! Wonderful service.
Will I go back? You bet. :)
Ginza Bairin is located at the Ground Floor of Glorietta 2 along Palm Drive, Ayala Center, Makati. Store hours are from 10am to 11pm. On weekends, they are open until midnight.