I heard about Matgalne, the Korean all-you-can-eat buffet for Php299, and since I LOVE Korean food, I had to try it. :)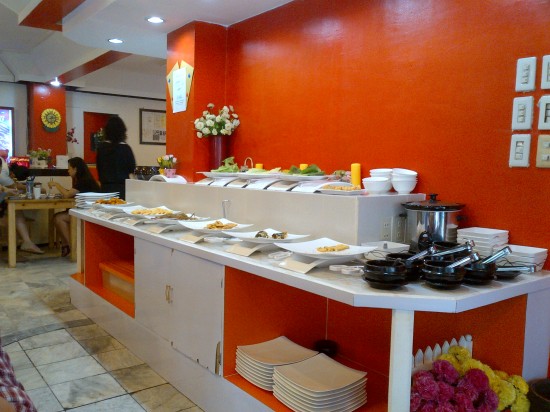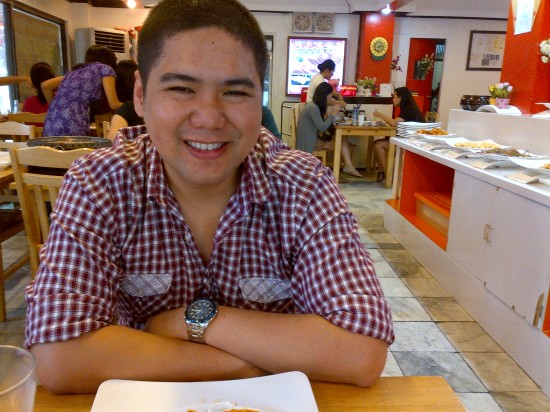 So, yeah. These two pictures are all I got to show for it. I am not even in them, haha! (I had too much fun cooking and eating that taking photos became not-a-priority.)
What can I say? It was affordable. There were many side dishes to choose from. My favorite was the japchae wrapped and fried in nori. It was like lumpia shanghai but healthier. :) I also liked the egg rolls.
The Php299 got us unlimited servings of thinly sliced pork belly. What happens is the waiter gives you an initial plateful of around 6 pieces, you cook it yourself, then you call him every time you want another serving. (I think I prefer being able to serve myself immediately and more substantially ala Yakimix! But I get that this is more economical for the restaurant.) If you want unlimited beef too, you add Php100.
Oh, and you need to make a reservation before you go there. Tables are limited as you can see in the second photo (we were at one end of the room with just one table beside us, what you see is basically all the space they have). We went on a Saturday around 11am and they were about to turn us away since all tables were fully booked. Good thing one customer backed out so we got his table instead. Yay!
They have a promo of shaving 10% off your bill if you take a photo of yourself there and upload it to social media. Plus you get entered into a weekly raffle where the winner gets a free lunch or dinner with 2 friends. It's a super good deal. I'm not subscribed to a data plan though so we didn't join. My friend Jeff did, though, and he actually won. I saw a video of the staff singing their congratulations to him on the Matgalne FB page, heheheh!
In conclusion, this is a very affordable buffet and since there aren't that many choices, you probably won't overeat. I will go back if I am hankering for a cheap Korean meal. :)
Location:
Matgalne Restaurant, Main Branch
4768 Kalayaan Avenue Corner Mariano Street, Poblacion
Makati City, Metro Manila
Tel #: (02) 890 – 2949
Matgalne Restaurant
2F Millenium Place Bldg., Meralco Avenue
Ortigas Center, San Antonio
Pasig City, Metro Manila
Tel #: (02) 632 – 9714
*Lunch and dinner buffets are available in both branches. Lunch buffet starts from 11:30 am to 4:30 pm while dinner buffet starts from 5:30 pm to 11:00 pm.