This is a Sponsored post written by me on behalf of Rakuten Global Market for SocialSpark. All opinions are 100% mine.
Just yesterday, my precious shipment of stones, pearls, beads and other various raw materials arrived. So happy! :-) It was so convenient. I ordered from an online store last Monday, and it just so happened due to the size of my orders, shipping was free, so it was just like buying from a store – but without the hassle! My shipment arrived two days later, and here I am today with half a dozen new trinkets, all made by my own hands. :-)
So easy that I am tempted to make another online purchase. This time the plan is to Explore Rakuten Global Market, especially because I can Get Global Free Shipping Now. Rakuten is a Japanese company but it's available in English. Wonderful!
It's very easy to sign up. Just click the button "Sign Up for FREE" and fill up the form and then click on "Register Rakuten Membership". Easypeasy. I'm on my way to selecting something nice.
Let me see. Because I love watches, as you know from my previous post here, then let me find a pretty watch. I just enter the word "Baby G" (because it's from Japan!) in the Search bar and click the Search button. I tick on the button "Free International Shipping" just so I am sure I won't have to pay for shipping, hee hee! And here it is, the watch that I have been salivating over and it is even cheaper than buying it in the mall.
I love this watch because of the unique design – let me tell you, out of all the Baby G designs, this is probably the best (for me). I love the quirky large numbers, the vibrant colors, and the girlish little heart instead of the number 2. Plus it's shock resistant so I can bring it with me to the gym.
All I have to do next is to Add to Cart, Checkout, pay via credit card and voila! I just have to wait for sweet Baby G to arrive in the mail. :-)
It's almost halfway through November. Around these parts, holiday shopping started in October and the mad rush to buy gifts is just getting worse. Have you experienced December traffic before? Ridiculous! I say, just visit Rakuten Global Market and do your holiday shopping (which includes gifts to oneself!) without ever having to leave the comfort of your home. :-) Now, before their 3-day global free shipping offer expires.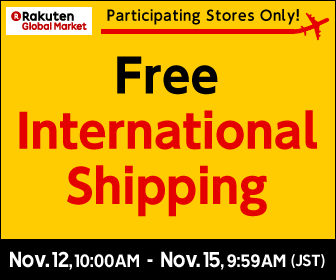 So, are you planning to skip the holiday rush and just buy online, too?