Technically, Gim and I are wed!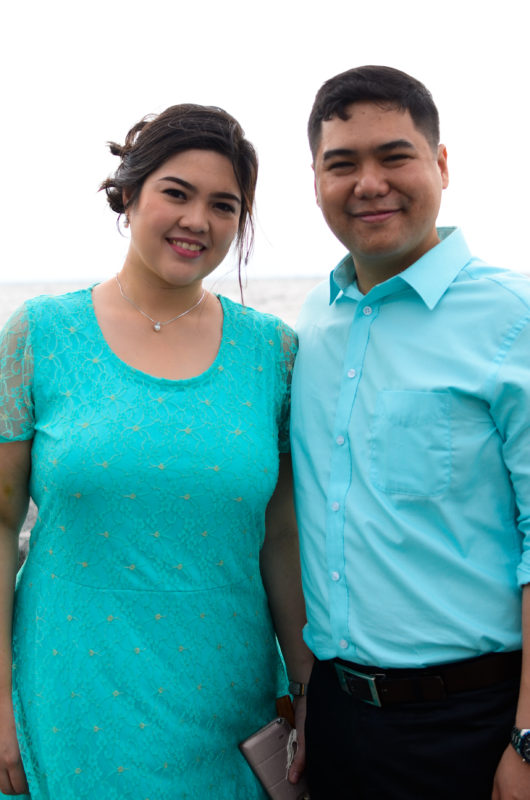 Let me spill the beans before my memory gets muddled. :)
The preparation for the civil wedding began several weeks in advance. I needed to request my and Gim's NSO birth certificate, residency certificate, barangay clearance, cedula, pre-marriage counseling certificate and NSO certificate of no marriage. Yeah, that's a long list.
We went through a lot of bureaucracy at the Makati City Hall, with the Civil Registrar asking us to repeatedly resubmit documents for unimportant details. Like for example my birth cert had "E. Rene" as the name of my birth father while my CENOMAR had "Emilio Rene". They wanted the two to be EXACTLY the same! Also my CENOMAR was already 4 months old and they wanted a more recent one EVEN THOUGH the CENOMAR has 6 months' validity (indicated in the Makati Citizens' Guide Book!!!). At one point they were requesting for the NSO birth certificates of my parents even though it was not part of the requirements! Really! I felt like they were just delaying us and putting up roadblocks so we would pay them under the table just to have them do their job already! It wasn't as if I was unprepared when I went there. And due to their delaying tactics I had already wasted two work leaves just going to their office. So I blew my top off. I was so agitated my voice was at its highest octave and the whole room was silent while I was soundly berating the civil registrar for making unjustifiable demands. Probably shocked that I was NOT the soft spoken submissive woman that he presumed I was, the guy at the counter backed off and let his supervisor handle me and things finally got moving.
If you don't personally know me, you might mistake me for someone who bends over backwards, aiming to please. The way I speak, I think. People always comment that I am "malumanay". Well, unfortunately for that guy, and anyone else who presumes that of me, I am most certainly not a people-pleaser. He learned his lesson and was a lot more respectful on our 3rd visit when we went to finally receive our marriage license.
Armed with the license, we went to the Mayor's office to request to be wed. Thankfully, the secretary was very accommodating and easy to talk to. Although she wasn't able to schedule us on our preferred date, she was able to schedule it a day earlier. So there was no need to rebook my family's plane tickets. :)
A few days before the actual civil wedding, I booked a vehicle with Viajero, located just a few offices down the street from my building. Very painless. Loved their efficiency! :) I chose the Toyota Innova which was a 7 seater, perfect for the number of our group plus the driver, and booked the vehicle from 1pm to midnight. I filled out a form, paid, the company emailed me the invoice and the driver's name and number. It cost me only Php2,700 – driver's fee and meals already included in the cost. I just had to pay for gas and parking fees. For me the cost was very reasonable and inexpensive given the benefit of us not having to think about driving, parking or waiting. :)
On the day of the civil wedding (June 2 2016), Gim and I woke up early. Gim went to pick up my mom and my sister from the airport while I stayed behind to tidy the house. By around 11am my other sister arrived and my whole family was in our condo unit and so we decided to go have breakfast at a nearby restaurant (Kitchen 1B).
By 12pm, I went to the salon downstairs (Blowout Bar Manila). I know, I love where I live! Hahaha! I've loved this salon ever since I got my hair and makeup done by them for the Boyzone concert. They did it really well and I loved my look. So I didn't think twice about going there again. My only mistake is that I didn't book in advance!!! I know so bad of me. I haphazardly thought their HMUAs were just there the whole day! Turns out you need to book early because although their hair people are there the whole time, the make up artists are on call! I had just gotten lucky last December. So anyway, they called their two MUAs but only one could make it on time (sadly this was not the better MUA that I got the last time). They were able to begin doing my hair at 12:30pm but the MUA arrived at 1pm! I was so worried by this time but I had no choice, I couldn't go to my own civil wedding without makeup! So I just hurried the makeup artist, she finished by 1:30pm and after, I rushed up to my condo unit and made everyone else leave so I could put on my dress! hahaha! By the way the hair and makeup cost me around Php2,200 I believe. It was a little costlier but last time I availed of a promo and this time I didn't really have a choice. I'm also a little sad my hair wasn't as big as last time but then this was totally my fault because I cut my hair recently (summer was just too hot for long hair). But anyway the end product was still good. :)
Here is my end-of-day-GGSS photo. :)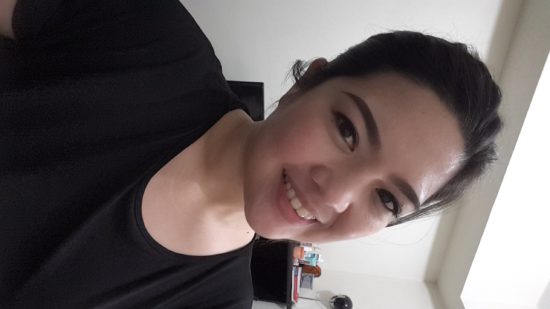 We left Rada (my street) at maybe a quarter to 2pm and headed on towards Makati City Hall. Thankfully it was just a short drive. Once we got there we were offloaded and the driver left to park the van. See! Painless! Haha. I do love convenience.
When we got to the 21st floor (yes it's way up there and there's only one working elevator to that floor!), Evelyn (the Mayor's secretary) had us sign our marriage forms. I signed, he signed. Our witnesses signed. (My witness was my sister Tricia while Gim's witness was his best friend Marvin.) All that was left was the Mayor's sign! Then we would be married!
Alas we had to wait about 2 hours until the ceremony itself. Not the Mayor's fault. There were 4 couples supposedly to be wed. All 3 were there at the appointed time (3pm). However the fourth was a no-show, though we did wait for them for an hour. So, by around 4pm, Mayor Kid Pena met all 3 couples in his receiving room. He gave us a little pep talk, then led the wedding ceremony. We said our vows. All in Tagalog!!! So deep Tagalog! Hahahaha! While I was still translating one line of the vows in my head, the Mayor was already saying the second line and then waiting for us to repeat it. So really I did NOT actually understand what I was vowing! Hahahahah!
And that's it! 15, 20 minutes top. We were exchanging rings! Exchanging kisses! (Getting some moolah from the Mayor!) The Mayor signed our marriage certificates! And we were done! That's it. We were asked to come back in 2 weeks to pick up our marriage certificate. :) :) :)
Afterwards, we were picked up by the van and then we were off to Vikings in MOA to have dinner. Speaking of Vikings, the booking process was quite easy! I don't know since when they've had it, but they've got a form on their site where you can make a reservation. You get the confirmation instantaneously and just present your confirmation email on your reservation date. Nice!
It was cloudy when we got to Vikings, and we were around 30 minutes early so we had to wait for a bit. But it was nice. We just sat on one of the cement benches by the sea and took pictures. By 5:30 pm or was it maybe 6pm we were ushered in and we started! We were so hungry since we had just had light brunch and nothing to eat since! Good thing it was a buffet, yeah? Hahaha! It was also interesting since we were seated by the glass and it rained quite heavily (with lightning and thunderstorms no less!) when we were dining.
We left Vikings at around 8:30pm I think. We first took Marvin home, his place was just in Ortigas. Then we took my mom and sisters to Katipunan. It had been raining so the traffic was really intense. For the nth time, I thanked God that I booked a driver and a van instead of just having Gim ferry us all in his car.
We got back to Makati just a little after 11pm, and we were so exhausted by then. Gave a tip to the driver and bade him goodbye, went up to our condo and got greeted happily by our little Snowy who missed us so, and had a good night's sleep! :)
And that's it! :) That's the story of my civil wedding day! :)
Here are some more stills of the day. :)