Did I mention that I love pasta? Yeah, I think my previous posts are a testament to my love for Italian cuisine. Well, this time around, I decided to do the traditional spaghetti. You know, the one's we Pinoys are soo used to. The one's that big, fat, happy bee bastardized and marketed as langhap sarap. As much as possible, I don't ever order pasta from that bee. Anyway, bees are supposed to specialize in making honey, not pasta (just go shoot yourself over some game tables, you silly bee).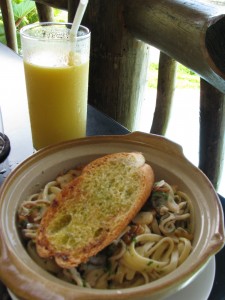 Here's the recipe:
Pasta
Boil 1/2 kilo of uncooked spaghetti pasta in a caldero of water. Liberally add a spoonfull or more of oil. Add a dash of salt. Boil until it's cooked, but firm (aldente, I think is the term they use to describe this).
Sauce
Sautee a clove of garlic (finely minced), a bulb of onions (still finely minced), mushrooms (cut in half) and bell pepper (chopped, not minced) in olive oil. Throw in a handful of ground beef. Sautee until brown. Open a sachet (around 200ml) of tomato sauce (or Italian spaghetti sauce) and pour it in. Grate a bar of cheddar cheese and season with salt, pepper, a pinch of sugar and a handful of Italian seasoning. Simmer for 10 minutes. Pour on cooked pasta and serve with grated cheese toppings.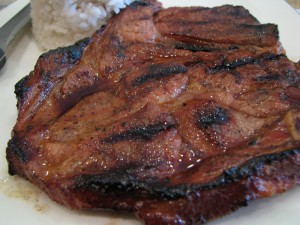 Roast Pork Cutlet
Season raw pork cutlet with salt and pepper, grill until well done. Serve with a side of pasta.
Enjoy!