Gim and I were on the taxi on the way to SM Megamall a couple of days ago chattering as usual. The music from the radio seemed very familiar but it didn't sink in until about halfway through the song, I realized, the song was in Chavacano! :) It was the song "Porque" by Maldita, a Zamboanga band. I was so elated!
That song was a hit back home but I hadn't realized it was getting Manila airplays too. Until the taxi ride. And – what a surprise – there was some part sung in Tagalog too! But those parts weren't that good, the song was more beautiful with Chavacano words.
Porque means "Why" in Chavacano. The single is the first released by Maldita, originally a local Zamboanga band. Vocalists are Francel de Leon and Demz Espinosa.
Other members of the band:
Drums – Mad Nubhan
Guitars – James Collin Medina, Whey Guevarra
Keyboard – Jesser Sison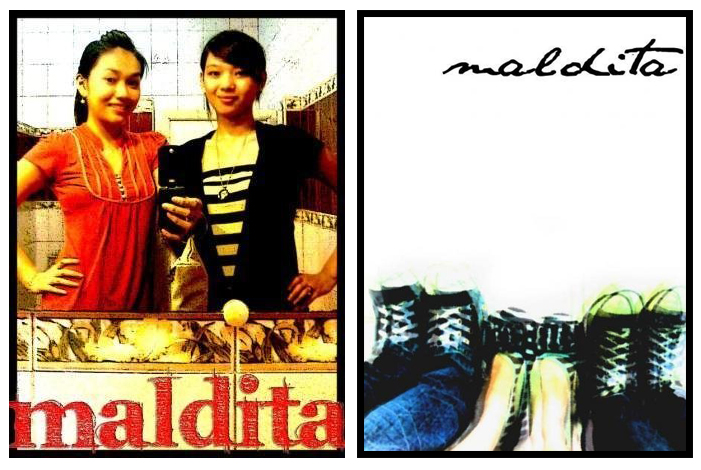 Here is the translation of Porque by Maldita, if anyone is looking for it. :)
Solo solo na mi cuarto
All alone in my room
Hende ta puede durmi
Cannot sleep
Bira-bira na cabesa
Back and forth, swirling in my mind
El dolor yo ya cinti
The pain I felt
Porque pa contigo yo ya quiere?
Why did I have to fall for you?
Como bula lang tu ya perde
But like a bubble you just disappeared
Porque contigo yo ya escuji?
Why was it that I chose you?
Ahora mi corazon ta supri
Now my heart is suffering
Bien simple lang iyo ta pidi
What a simple thing to ask
Era cinti tu el cosa yo ya cinti
I hope you feel what I feel
Ta pidi milagro, bira'l tiempo
Asking for a miracle, to turn back time
El mali hace derecho
All the wrong, make right
Na dimio rezo ta pidi yo
In my prayer, I am asking
Era olvida yo contigo
To forget you
Todo-todo yo ya dale
Everything, I gave
Ahora ta aripinti
Now I am regretting
Sobra-sobra el dolencia
The pain is too much
Tormento para vivi
Living is a torment
Porque pa contigo yo ya quiere?
Why did I have to love you?
Como bula lang tu ya perde
Like a bubble you disappeared
Porque contigo yo ya escuji?
Why did I have to choose you?
Ahora mi corazon ta supri
Now my heart is suffering
Bien simple lang iyo ta pidi
What a simple thing to ask
Era cinti tu el cosa yo ya cinti
I hope you feel what I felt
Ta pidi milagro, bira'l tiempo
I am asking for a miracle, to turn back time
El mali hace derecho
Turn the wrong things right
Na dimio rezo ta pidi yo
In my prayers, I ask
Era olvida yo contigo
I hope I forget you
No tu distorba
Don't you bother me
Y no atraka kay baka palmadia yo contigo
And don't you come near me, I just might slap you
Nunca accepta
Never will I accept
Si tu ay bira por dolor ya cinti
Your return, for the pain I felt
Porque contigo yo ya escuji?
Why did I have to choose you?
Ahora mi corazon ta supri
Now my heart is suffering
Bien simple lang iyo ta pidi
What a simple thing to ask
Era cinti tu el cosa yo ya cinti
I hope you feel what I felt
Porque contigo yo ya escuji?
Why did I have to choose you?
Ahora mi corazon ta supri
Now my heart is suffering
Bien simple lang iyo ta pidi
What a simple thing to ask
Era cinti tu el cosa yo ya cinti
I hope you feel what I felt
Ta pidi milagro, bira'l tiempo
I am asking for a miracle, to turn back time
El mali hace derecho
Turn the wrong things right
Na dimio rezo ta pidi yo
In my prayers, I ask
Era olvida yo contigo
I hope I forget you
Ooohh..
Porque contigo yo ya eskuhi?
Why did I have to choose you?
Ahora mi corazon ta supri…
Now my heart is hurting…
Here is the Tagalog version: