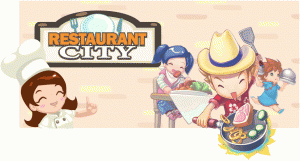 Restaurant City is a popular Facebook flash game. It revolves around the concept of being a restaurant worker, be it a chef, a waiter or even the owner. It is also a social application, it allows the player to invite his/her friends into the game, by having them accept jobs in the restaurant. You can customize your restaurant when you gain profits, by buying decorations, furniture or equipment.
Your Facebook friends can have their own restaurants as well, and you can visit each others' restaurants. You can even share or trade ingredients and help each other create unique menus.
This game was created by Playfish for Facebook, and here are some tips to help you play better.
Ingredients in Restaurant City
Every day you get a free ingredient. That is, if you log in. So make sure to play Restaurant City once  a day to get your free ingredient. Secondly, answer the quizzes in your inbox. Every day, you get a question that you can opt to answer. If you get the answer correct, you'll get another free ingredient. And lastly, you get an ingredient when visiting a friend's restaurant for the first time. So, make a lot of friends on Facebook, get them to join Restaurant City, and you'll have a steady stream of free ingredients.
Levelling Up in Restaurant City
It's easy, playing equals levelling up in Restaurant City. Keeping your Restaurant City session open gains you GPs, or gourmet points. These are points for levelling up, so the longer you play, the faster you can level up. If you don't feel like playing, just don't log out. You can open another tab to do stuff, just stay inside Restaurant City to get your GPs.
Money
So you need money. Are there any trees around? Try shaking them. Money may not grow on trees but in Restaurant City, money falls off a tree when you shake it. Also, pick up some trash around your place. That'll get you some dough as well.
Cheats
Haven't found any, do tell if you have some Restaurant City cheats. :D
Have fun playing Restaurant City! :-)